La Army Painter alza il tiro, dopo a i Space marines ecco un pdf dedicato al Chaos che io trovo molto utile.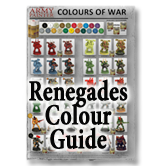 "Following last months' popular 2-page Colour Guide pdf on various colour schemes for Space Marines – we have now uploaded an extra page looking at Renegades Chaos Space Marines.
Following the usual simple Army Painter Technique, the new Colour Guide pdf demonstrates the combination of various Colour Primer sprays and Quickshade dip.
Get more time for gaming!"
Ecco il PDF:
http://admin.thearmypainter.com/files/downloads/pdf/40K_poster_renegades.pdf
E per più informazioni clicca QUI